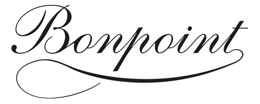 Bonpoint is a French brand known worldwide for the marketing of ready-to-wear, chic, elegant and refined clothing.
They are adorable outfits, together, angel's nest, cuddly toy, small luggage for newborns.
The range of clothing extends from birth (0-3 months to babies and 3-24 months) then to children girls and boys 3 to 10 years old. From casual looks to formal wear, your child in Bonpoint is always at the cutting edge of fashion.
Bonpoint also offers a wide range of shoes as well as many accessories, scarves, belts, a perfume with "L'eau de senteur" scented candle, a line of trendy little pouches, scarves or costume jewellery.
Buying on www.bonpoint.com, is the assurance of clothing of impeccable quality that makes the Cruise, Holmes, Obama families happy... and of birth or birthday gifts that are very pleasing.
However, Bonpoint does not deliver to every country in the world, and you may not be able to enjoy all of these items… But now you have the solution !
Easy-Delivery will deliver and reship your Bonpoint parcels anywhere in the world ! Wherever you are, buy on the Bonpoint website, we deliver your orders to your home.
Bonpoint delivery anywhere in the world is with Easy-Delivery.